Under Armour Game: Desmond Evans Talks UNC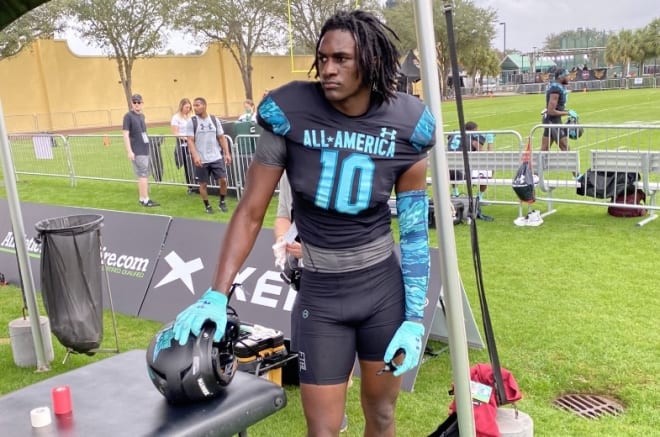 ORLANDO, FL – This time next year, Desmond Evans will be completing his first season as a North Carolina Tar Heel, but right now, the 4-star defensive end from Sanford, NC, is getting ready to play in Thursday's Under Armour All-America game at Camping World Stadium.
THI caught up with Evans this week as he prepares for his last high school football game to discuss the Tar Heels, the incoming class and getting ready to play for Mack Brown's program.
At 6-foor-6 and 240 pounds, Evans is rated the No. 47 overall prospect nationally in the class of 2020, including the No. 2 player at his position. He's rated the No. 2 prospect in the state of North Carolina, too.
Evans committed to play for the Tar Heels on Oct. 18 in an announcement at Lee County High School.
The Under Armour All-American game is Thursday night at 6 pm and will air on ESPN2.
Here is a transcript of what he had to say:
On is thoughts about UNC's class and what do they bring to the table…
EVANS: "We got a good defense coming in right now. We got Myles Murphy that's down here with me right now. We just ready to get to college and get right."
Did you watch the bowl game?
EVANS: "Yes, I watched some of it. They killed them."
What's the coaching staff really talked to you about?
EVANS: "Just being that guy coming out with effort and something like that."
Have you talked to any other guys in the class and talk about what you guys are going to do once you get to campus?
EVANS: "Not really. I mean we just be chilling and involved and stuff like that."
Have coaches told you things to work on?
EVANS: "I just need to work on my feet work, my hand technique, and everything else. Just everything overall."
Are you recruiting any 2021 kids?
EVANS: "Nah, no 2021 not yet."
Who is most underrated kid in UNC's class that was signed?
EVANS: "To be honest, I don't really even look at what people have decided. They just tell me stuff."
*Adam Friedman contributed to this report
Evans Announcing Oct. 18 He Will Attend UNC...