Virginia: Lawrence Taylor
After switching positions a couple of times, Williamsburg, VA, native Lawrence Taylor settled in at outside linebacker prior to the 1979 season. From that point on, he developed into the greatest linebacker in the history of football and changed the sport in the process.
And really, that's not an exaggeration.
Former NFL Super Bowl winning coach and longtime legendary NFL broadcaster John Madden was clear about the effect Taylor had on the sport.
"Lawrence Taylor, defensively, has had as big an impact as any player I've ever seen," he told ESPN.com in 2007. "He changed the way defense is played, the way pass-rushing is played, the way linebackers play and the way offenses block linebackers."
Before he was a household name, Taylor was simply a North Carolina Tar Heel finding his way to a position he was comfortable playing. UNC fans then watched him blossom into a star.
Taylor was a unanimous first-team All-America as a senior in 1980, named the 1980 ACC Player of the Year and to the 50-year 50 Greatest ACC Players Ever team.
His 16 sacks in 1980 remain a single-season school record. Those sacks led to 157 yards lost by opponents. His tackle of Clemson QB Homer Jordan inside the 10-yard-line saving the game for the Tar Heels and ending a 7-game losing streak in Death Valley is still one of the most memorable defensive plays in school history.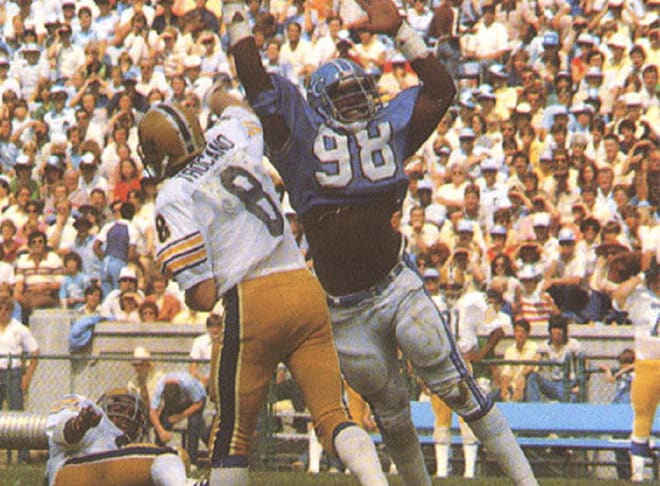 Taylor had 21 career sacks, 33 tackles for loss of yardage (22 in 1980), two interceptions as a Tar Heel and three fumble recoveries in 1980. UNC's last ACC championship came in 1980, a season the Tar Heels also finished ranked in the Top 10. Carolina career the Heels also defeated Michigan and Texas in bowl games while Taylor was a Heel. He was an enormous part of that success.
Georgia Tech Coach Bill Curry told the New York Times about Taylor prior to the 1981 NFL draft, "'He has all-pro potential. He destroyed our offense."
Professionally, Taylor was the No. 2 overall pick in the 1981 NFL draft by the New York Giants. He helped lead the Giants to two Super Bowl victories, played in 10 Pro Bowls, was an eight-time first-team All-Pro, NFL MVP in 1986, three-time NFL Defensive Player of the Year, NFL Defensive Rookie of the Year in 1981, nine-time NFL Player of the Week, and his jersey No. 56 is retired by the New York Giants.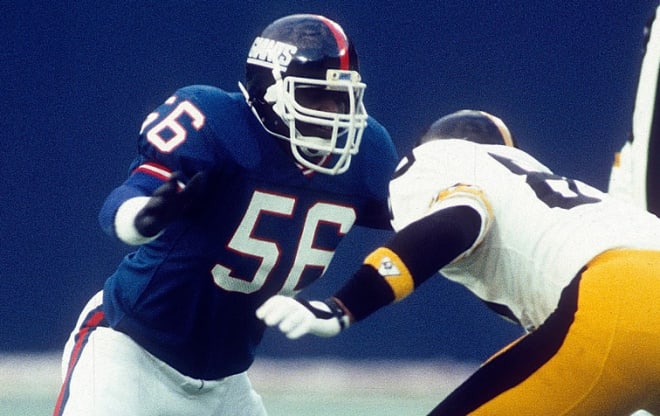 For his NFL career, the 6-foot-3, 245-pound Taylor registered 132.5 sacks, 1,089 tackles, intercepted 9 passes, recovered 11 fumbles and scored two touchdowns. Registered 8.5 sacks and scored a touchdown in 15 NFL playoffs games.
Taylor changed the NFL forever, not just how linebackers played but defenses in general, plus how offenses had to schemed for them. Examples: Multiple tight end sets, the H Back that Joe Gibbs created, and left tackles went from being just a part of five offensive linemen to a highl paid glamour position. Left tackles are among the highest paid players in the NFL because Taylor made them matter more than anyone else did.
Harry Carson, a Pro Football Hall of Famer and a teammate of Taylor's with the Giants, saw firsthand just how amazing Taylor was.
"Lawrence had a huge repertoire of moves and ways to defeat blockers," Carson told The Sporting News in 2011. "I don't want to say he was a ballerina. But he was an artist."
Taylor was inducted into the Pro Football Hall of Fame in 1999.