{{ timeAgo('2021-05-03 04:45:49 -0500') }}
football
Edit
Vohasek Ready To Cap Off Once-Improbable College Career
CHAPEL HILL – Ray Vohasek is a no-frills kind of guy.
There is not any pizazz with his game or how he generally carries himself. No dancing on the football field, no wild theatrics. He is just a hand-in-the-dirt player perfectly content plugging gaps so other players can make tackles and get the headlines.
Only that Vohasek does make tackles, including every so often behind the line of scrimmage, plays that can bring out celebratory antics in players. Seven tackles for a loss of yardage last season, three-and-a-half as sacks, yet Vohasek just went about his business.
But he is vocal. The other members of North Carolina's defensive line know his voice and message. Vohasek speaks from personal experience as someone who did not get looked at by any FBS programs coming out of high school, but here he is, manning one of the spots along the Tar Heels' front line on a club with top-10 aspirations this coming fall.
"Be a leader for these guys," Vohasek recently replied, when asked what his role is for the Heels. "I've been really trying to help them pick up things that I struggled with at first, and just be a leader for them and be somebody they can count on and be there every game."
Vohasek suffered a torn labrum as a senior at McHenry East High School in McHenry, IL, appearing to end his football career. In fact, playing in college was not really on the docket.
"I wasn't even going to go to college to be honest with you," Vohasek said last fall, when outlining his path to Chapel Hill. "I was going to go into construction,"
Yet, Vohasek ended up having surgery the following July and enrolled at College of DuPage, a junior college in Glen Ellyn, IL. Vohasek played football that fall leading the team with 7.5 sacks and 11 tackles for a loss of yardage. Suddenly, there was some interest from schools.
He took a medical redshirt in 2018 and enrolled at UNC with three years of eligibility remaining. First recruited by Larry Fedora's staff, Vohasek had already fallen in love with UNC by the time Mack Brown took over, and a month later committed to Carolina.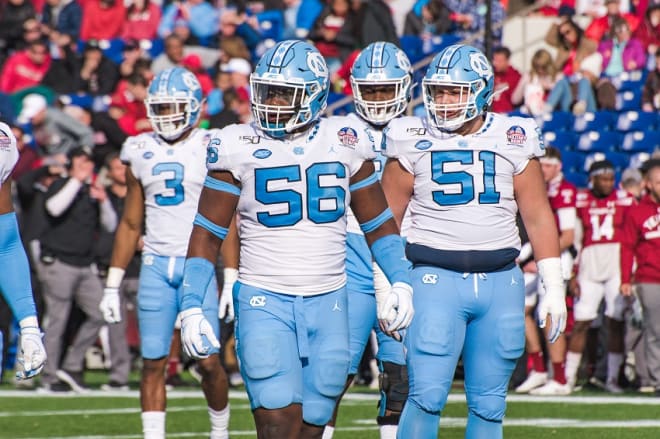 With his final season at UNC commencing in August, Vohasek is a mainstay along the Tar Heels' defensive line. A starter a year ago, the 6-foot-3, 300-pounder from McHenry, IL, is coming off a season in which he recorded 29 tackles and had nine QB hurries. In addition, Vohasek forced a fumble and blocked a kick.
He played 437 snaps last season grading out at 66.3, according to PFF, the fifth highest total of a Tar Heel defender who played more than 100 snaps a year ago.
But when asked about his game and the defensive front, he talks more about the unit as a whole, how deep and talented it is, and how quickly it has changed since he arrived.
"A lot of guys are rotating in," he said. "We're bouncing around positions, because I think this year with the depth that we have, guys will be able to switch positions, get different groups in there, and I think we're just going to be able to rotate… and tire offensive lines and have fresh bodies in there the whole game.
Vohasek will be better equipped, too. He could not lift weights for a long time after arriving at UNC because of the shoulder problem, which lingered even though he still played. But now he is a machine in the weight room and a regular with UNC strength and conditioning coach Brian Hess.
The upper body strength has caught up, so the focus this offseason has been elsewhere.
"I feel like my lower body, in general, getting in there with (Coach) Hess (and) really grinding," Vohasek said. "This offseason was huge. We went in there really grinding five days a week… I feel a lot better, a lot stronger. I would say my legs are the biggest thing for me."
His senior year as a college student and football player are just around the corner, something that did not seem possible several years ago. Plans were altered, but all for the good.
Ray Vohasek has exceeded many expectations, and just may do so a bit more.