Where There Was A Will There Is A Maye
CHAPEL HILL – Roy Williams always knew Luke Maye had a chance.
That wasn't a belief shared by some of the Hall of Fame head coach's assistants.
Still, North Carolina's coach never wavered. He just believed.
"I remember standing in the (Smith Center) hallway out there on the other side and telling him and his dad, 'Don't be in a rush, don't be in a rush,'" Williams said during Thursday's press conference in advance of Saturday's game versus Duke, which is also Senior Day.
"And I remember pulling Mark (Maye) over to the side and saying, 'Please, don't be in a rush, he's got a chance, I really believe he has a chance.'"
A 3-star power forward out of Hough High School in Cornelius, NC, the son of former UNC quarterback Mark Maye had offers from over 12 Division I programs, including ACC foes Notre Dame and Clemson and Virginia was reportedly close to offering.
Maye had plenty of opportunities to accept a full ride elsewhere but wanted to come to Chapel Hill like his mother and father did. He was born into a UNC household and dreamed of putting on that Carolina blue jersey one day.
"He wanted to be a Tar Heel," Williams said. "I was very fortunate, and I knew that and tried to tell him how badly we wanted him so that part makes it look like he's come from nowhere. But he could have gone to Davidson, he could have gone to probably Clemson, Virginia, Notre Dame. He had some good offers, he was just a North Carolina guy."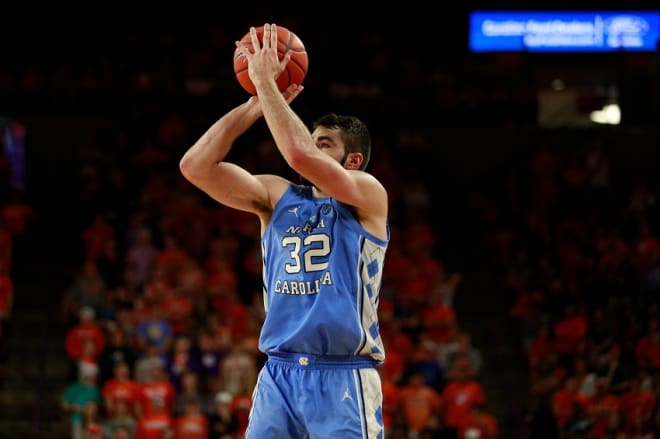 Maye enrolled at UNC in the fall of 2015 and didn't exactly tear it up in his freshman campaign. Averaging just 1.2 points in 5.6 minutes a game, his playing time was limited, but that didn't deter him.
Instead, he stayed in the gym and worked, something his head coach never forgot.
"When a young man sits in my office and says, 'Coach, I'm gonna show you, nobody's ever going to outwork me,' I remember that moment," Williams recalled, clearly enjoying the memory. "I can take you up there and tell you which chair he was sitting in and which chair I was sitting in."
Now on scholarship, Maye's playing time and contributions increased in his sophomore campaign when he averaged 14.2 minutes, 5.5 points and 3.9 rebounds as the Tar Heels won their sixth national championship. Not to mention the most memorable moment of his career occurred when he hit the game-winning shot against Kentucky to send UNC to the Final Four.
Building off that life-changing shot and a Most Outstanding Player of the South Regional, where he averaged 16.5 points and 7.5 rebounds in a pair of wins over Butler and then the historic victory over Kentucky, Maye had an outstanding junior campaign that saw his game soar first-team All-ACC status. He averaged 16.9 points and 10.1 rebounds in 32.2 minutes per game.
Maye was regarded one of the best players in the nation, as he was also honored as a third-team All-America, the ACC's Most Improved Player and even a second-team Academic All-American for his work in the classroom.
But Maye wasn't satisfied. He seemingly never is.
"I had a really strong year, but I think there's a lot of areas I can improve on," Maye said before this current season started. "I didn't finish as well at the basket as I could have. I had some games where I really struggled offensively. I struggled from the free throw line in my mind but, overall, I think I can be a lot better."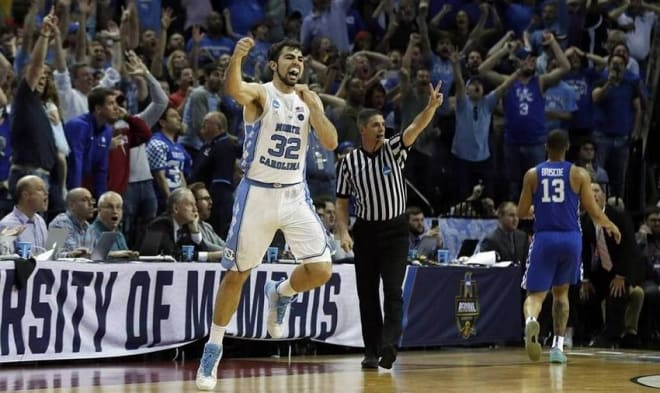 His scoring and shooting numbers are down, but Maye is playing better right now than this time a year ago. He's averaging 14.9 points and 10.3 rebounds in 30.7 minutes and he has 13 double-doubles, including four in the last five games, and two 30 plus-point-performances on the season, both of which came at N.C. State and Duke.
In the Tar Heels' latest win over Boston College on Tuesday, Maye continued his impressive play, finishing with 17 points and a career-high 20 rebounds. After the victory, the Preseason ACC Player of the Year credited his continued success to what got him there in the first place.
"I think I've just tried to really stay in the gym," he said. "I mean, grant it, I haven't shot it great from the three this year, but I think, overall, I've become more of a complete player creating plays and trying to get better in position rebounding."
As Maye's college career edges to a close, he's done things in his four years at UNC that many never thought he would. Despite the doubters, he and Williams always knew the potential was there if he was willing sweat.
"Whether I was on scholarship or not, it (coming to UNC) was because I wanted to get better each day, I wanted to come here and grow as a player and as a person," Maye said. "Obviously, I made the right decision but, looking back, I still would've done the same thing because of the trust I had in coach."
Williams believed Maye had a chance way before he ever made a shot in the Smith Center. That trust in Maye's abilities payed off, not because it had to, but because the player was willing to work for it.
"The thing that I'll remember for the rest of my life, which I hope is more than a couple weeks, is how far the kid came, how hard he worked," Williams said. "That desire and that determination and belief in himself, I really appreciate that part."