Williams Back At UNC Again, This Time For The Cookout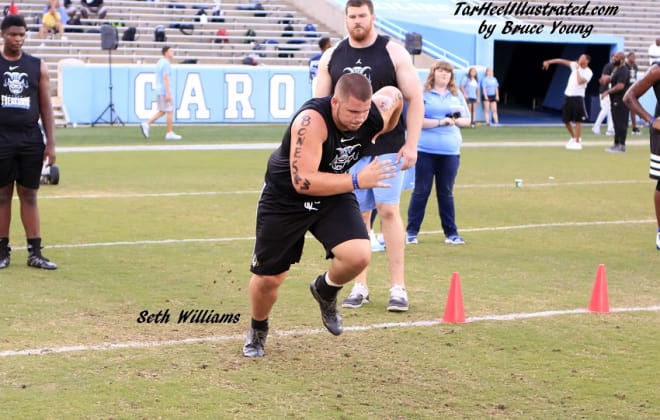 Seth Williams is becoming somewhat of a regular in Chapel Hill these days.
He attended one of UNC's prospect camps and later participated in the Freak Show. And this past weekend, the 6-3, 300-pound offensive lineman from Statesville (NC) High School was back in town for the program's annual cookout it holds for prospects a week before kicking off its own fall camp.
THI spoke to Williams the following day to get his thoughts on the trip and the latest in his recruitment.
"It was just great interacting with the coaches and just hanging out with them," Williams said. "I also went on a school tour that was really nice. It was nice to see everything. The new indoor facility looks really nice.
"They were still working on it, so we just saw it from far away."
The 2-star class of 2020 center has been gaining momentum with the Tar Heels coaching staff with each visit. Although he doesn't have an offer from UNC yet, he still likes them a lot.
"They want to see my first couple of games this season," he said. "Coach Adams has invited me up to the first home game against Central Florida."
When asked about UNC Football and if the Tar Heels could get back on track with a good 2018 season, Williams said, "Yes. I feel like this season will be really good for their program."
THI's Take:
As often as Williams has been around the program, you'd have to think an offer is coming soon. Coach Kap spent a lot of time with him at the June day camp even though one of Williams' legs was in a boot. Not only do we project an offer will come, but also that UNC will be positioned well to land Williams. - AJ