Woods Finding His Game
CHAPEL HILL – Seventh Woods was a big deal long before he stepped onto a college basketball court.
That's what happens when you become an internet sensation courtesy of a dunking video that went viral several years ago. Though, while Woods can still ram it down with the best of them, that's not his game now that he's a junior at North Carolina.
A point guard in training the last two years, with last season affected by an injury, Woods' game running the show is beginning to take shape, if the first four contests of the campaign are a true indication.
Look to his effort in Friday night's 108-58 Tar Heels' victory over Tennessee Tech as the most recent, and most impressive, example.
Woods finished the evening with seven points and a career-high eight assists in 17 minutes. He's playing with obvious confidence and control. His game has matured a great deal and he knows it. So, what's been the difference for him?
"I would say my confidence, realizing that I am capable of making the right play," Woods said. "The biggest part for me is realizing that I am going to make turnovers and mistakes. I just have to move on as quickly as possible and focus on each play.
"When I make a mistake, I know the mistake I made and learn from it instantly."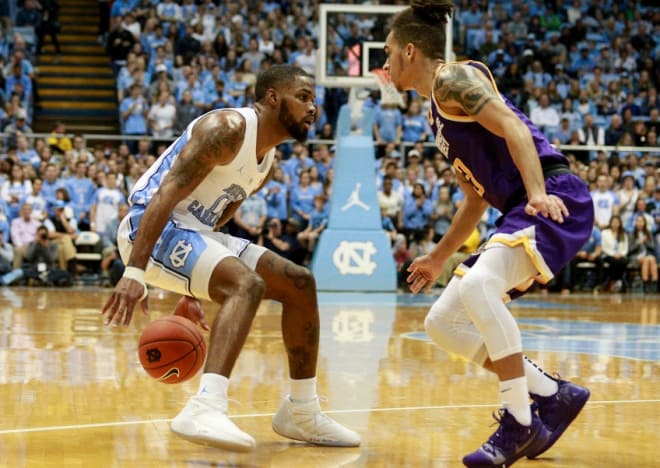 From the moment he took the floor in UNC's season-opener at Wofford, Woods has played with his head up on both ends of the floor. He's been alert defensively, communicated, and done a nice job executing Roy Williams' number one defensive demand for his point guard: He's stayed in front of his man most of the time.
With the ball, Woods has been effective getting the Tar Heels into their offense, including set plays, which was previously a struggle for him at times. His vision and awareness, ability to make the right passes, especially the simple ones, appear as if he's been doing it for years.
It's not as easy as it looks to make routine plays appear so simple, but Woods did that Friday, as he has in prior games these last two weeks, but he took it up a notch versus Tennessee Tech.
"The game has definitely slowed down for me," Woods said. "I realize how good my bigs are, so if I get the ball inside to them, nine times out of ten they're going to score the ball, so it's an easy assist for me, and I realized that early on."
In four games, Woods has 20 assists and four turnovers in 61 total minutes of action, so he's handing out an assist every 3 minutes and 3 seconds and turning over the ball just once every 15.3 minutes.
This for a guy some observers questioned if he was ever going to develop into a serviceable Tar Heel, much less the video star he was prior to arriving in Chapel Hill. He was the third point guard on the 2017 national championship squad and battled injuries a year ago.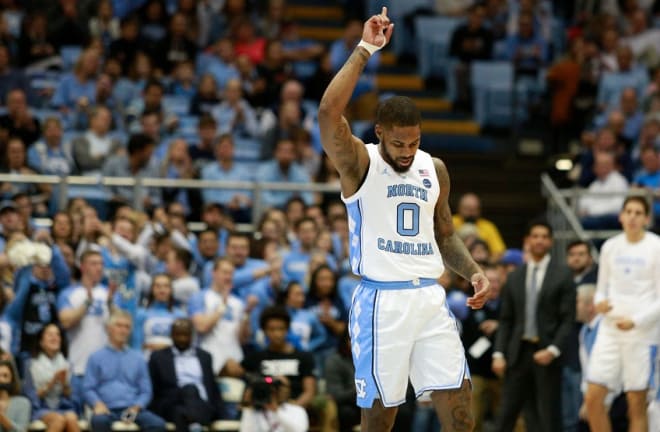 Even when healthy last season, he struggled, and through his first two seasons, the 6-2 Woods averaged handing out an assist every 6.5 minutes and turning over the ball every 8.3 minutes. He's smashed those numbers to smithereens through UNC's first four games.
"It's really cool to see him play at a high level and play within himself and try to do things he knows that will help the team overall," senior Luke Maye said.
Woods is still coming off the bench playing behind freshman Coby White. His role, however, is kind of Nate Britt-like in some ways, but he's also serving as an example to White, who continues learning the point guard position.
White takes mental notes when he's on the bench and in practice, absorbing how Woods handles the routine plays, because that's really where it begins at the point. Do the As, Bs and Cs first, and then add some bells and whistles.
"Watching him tonight was good to watch – eight assists and zero turnovers – because he made the right play," White said about Woods' effort Friday. "He made one nice one behind the back, but other than that, he didn't do nothing flashy he was just making the right plays."
And Woods is doing what Roy Williams asks. In the end, that's what it boils down to. Woods has heard the demand from day one at UNC and still does today.
It's simple, it's unmistakable, and it's the mantra from his coach:
"Guard the ball, don't turn it over (and) you get more minutes and get more praise from the coaches," Woods said. "And that's always a good thing."
Four games in, the praise is high and so is Woods' confidence.
Woods' Tenn. Tech Postgame Interview